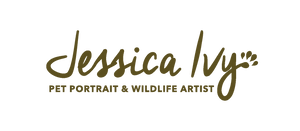 Your cart is currently empty.
WELCOME TO THE STUDIO OF
JESSICA IVY
Hi, I'm Jessica, a professional Pet Portrait and Wildlife Artist based in Cork, Ireland. Working in soft pastel pencils, I specialise in creating detailed, lifelike drawings of animals you can treasure for a lifetime, from your household pets to farm animals and wildlife.
Needless to say, I'm an avid lover of animals and, I am a proud mum to two adorable (sometimes very naughty) rescue cats. Spending time with animals of all kinds and sizes has always brought me great comfort and happiness. I have had a passion for drawing and animals from a young age. My career in animal portraiture has been motivated by these great loves.
Nothing makes me happier than using a pencil and piece of paper to bring someone's beloved pet to life. I search for personality, expression, and movement in each piece I create to depict each pets unique personality and quirks. I believe that no two pets are alike, and each one enriches the lives of their owners in a special way. One of the best parts about my job is hearing stories from my clients about their furry best friends and helping them remember their much-loved animals forever, with a portrait that can be kept and cherished for years to come.  
Original wildlife paintings, prints and more are available to purchase on my website shop. If you have any questions or are thinking of having your pet commissioned, please get in touch via the 'Contact' page. I accept work from all over the world. 
I look forward to hearing from you!