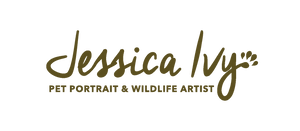 Your cart is currently empty.
WELCOME TO THE STUDIO OF
JESSICA IVY
Artist Jessica Ivy welcomes you to enter a realm where the wonders of our wild live in a prismatic dream world. Through her use of charcoal and soft pastels, she paints ethereal scenes of wildlife set against a plethora of colour. While the artist's full name is Jessica Pettit-Mee, she chose to be known for her art as Jessica Ivy. Ivy holds special meaning for Jessica, as she has always loved the way it winds its way up a person's home, enveloping it and becoming a part of it. Jessica's art is meant to do that, too — to belong to a person's home, their heart.
About Jessica